Avatrade affiliate program avapartner
AvaTrade has become known for its excellent affiliate programs, but if you don't know about it, here you can find out more.
For those who want to become partners of AvaTrade by referring new clients to Ava family, AvaTrade has really attractive fees and really good customer support for their affiliates. Those who want to offer brokerage of their own, there is excellent support. Anyway, there are several programs for different types of partnerships.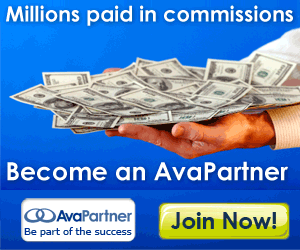 As we can see in Avapartner review, White label is a program designed for companies who wish to start with brokerage of their own that they can offer to their clients. One of the conditions to have white label program is to have clients and a license for financial services.
Introducing broker is a program mainly serves to those who already have clients and wish to have them referred to Ava. AvaTrade is offering revenues for every client referred. The bonuses will be calculated upon the amount of new referred clients deposited and traded.
Money manager offers that and more; it gets customers a chance to get some more prize money based on their performance and the performance of their referred clients. The more you and the transferred client's trade, the more chance of receiving awards you have.
Newcomers to the Forex market can have sure bonuses up to 300 USD, when the new customer referred deposits money. The bonus is calculated based on the effectiveness of the new client depositing money.
If you want to start a partnership, you should know that it is free of charge. In one day after you send your application tops, you will be approached by Ava team in order to discuss details with you. When you get approved, you will be monitored in order for your actions can be tracked in order for Ava to know your ongoings.
Reference:
http://www.forex.in.rs/avapartner-forex-affiliate-program-earnings/