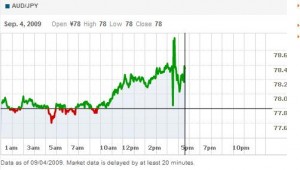 Ask a Forex trader about "Whipsaws" and you would notice them shivering. It is an unpredictable and fearful jolt that hits a trader when he loses his money in just a few minutes. It sends his confidence tumbling down because he couldn't tell why the winds suddenly turned in the opposite direction.
But, a trader who is wise and has a longer experience would accept this situation and emerge out of it to be back on his feet. It is such type of traders who can stay in the race for a longer period and continue to make profits from Forex trading. So, a whipsaw takes place when the markets go in the opposite direction of what is anticipated of it. It is the whipsawed trader that bears the shock because his money and all expectations come under big risk.
Such a trader becomes a victim because all his trading decisions are based upon the expectation about the future prices, but the market gives him a surprise by moving in the opposite direction. A whipsaw is one of the most dangerous, frustrating, costly and unpredictable occurrence that you can expect to experience as a trader.
Reasons for a Whipsaw
• An investor is most likely to get hit by a whipsaw when his entry order and the stop loss exit order get filled during the same trading session/hour. And, this stops the trader to get a loss. When the market moves in one direction and then changes the direction in an instant and the trader is stopped out.
• Lower cash flow in the market can also cause whipsaws. This is most likely to happen during summer holidays, more precisely towards the last weeks of August. The lower volume in trading causes lesser liquidity and it would cause bigger trading ranges and this increases the happening of whipsaw trades. Such swift change of directions can whipsaw you in a situation that may seem to be a profitable trade.
How to Avoid Whipsaws?
Whipsaws can mean big loss, and you would always want to know when they are likely to occur so as to avoid them. Whipsaws are most likely in markets, which are range-bound and have lower volatility and there is no noticeable economic news to cause any disturbance.
If you want to become a serious trade and continue trading for long-term, you should accept these occurrences as likely to occur. It is also like other regular events such as spikes, rises and crashes. The best you can do is to learn from your mistakes and improve your analyzing skills.
There are a few things you can do to stay away from whipsaws.
• Understand the fact that whipsaws are likely to occur despite you being the most experienced and accurate trader. It is a part of your profession as a trader.
• Learn how to manage so as to minimize your losses. You don't want to lose all your money in just a single whipsaw hit.
• Always try to remain with the trend. For example, summer is usually taken as a low-trading volume season because of holidaymakers. Therefore, the lack of momentum increases the chances of a whipsaw during this period.
• If you still want to trade at this time, you must stay away from the counter-trend trades. The only exception is when you can see sufficient reasons that convince you that it is safe.
• Even when you are certain during such periods, you must remain alert and make sure that the exit stop is kept close and create a profit target so as to make the maximum possible profit if any situation appears where you have no other option but to take a counter-trend trade.